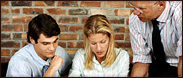 CHOOSING THE RIGHT LAW FIRM


When you select the Oklahoma Attorneys at the Law Firm of Marco Palumbo & Associates, you have made a decision to work with a very high powered law firm, dedicated to protecting your legal interest.

Whether you need a competent criminal law, family law, personal injury or an estates and trust attorney, our firm is a wise choice.

Please call anytime without obligation. It would be a pleasure to talk with you and answer any questions you might have.




THE OKLAHOMA ATTORNEYS AT THE LAW FIRM OF Marco Palumbo & Associates,
have unrivaled knowledge, experience and

proficiency in numerous legal disciplines
The Aggressive and Experienced Oklahoma Attorneys at The Law Firm of Marco Palumbo & Associates, practice Criminal Law, Family Law, Personal Injury, Estate Planning Law, Real Estate Law including; all areas of law listed below. To learn more about our services, select a legal topic of interest below. Contact us today, for a FREE confidential case review.
Licensed to practice in all State and Federal Courts in Oklahoma. Our law firm consists
of highly qualified lawyers, from our principal and associate lawyers to our high powered legal network, we provide outstanding service across a wide range of practice areas.


Our Oklahoma Attorneys